Tuesday, August 9, 2011 at 10:59AM
Not that anyone seems to be particularly interested in my latest obsession, but since I had some time (i.e., I'm procrastinating), I thought I'd do a little tutorial on how I made my owl on the iPad.
First, I created a painty textured background in Artrage:
When you open Artrage, there are a series of brushes/painting stuff on your tool bar, one of which is a tube of paint, another is a palette knife. So, just as if I had a canvas, I squeezed colors onto my screen, and smooshed them around with the palette knife. I then imported the canvas into Snapseed, just to crop it to a square, because I think squares are easier to fill. While I'm not really a very big Spongebob fan, there's a series of tutorial on Youtube by the guy who does the art for Spongebob, using only Artrage although he does the original inking with Illustrator, which is a total mystery to me). Now, he's demoing the PC counterpart, but the only thing the iPad doesn't do that the PC program does, is stencils and stickers. The painting components are very much the same, although the interface is a bit different.
Then, I attempted to add a scene, and sketch in my owl:
The nice thing about Artrage, as with most paint/drawing programs, is that like Photoshop, you can work in layers. So, the layer with my guidelines can be easily turned off and on, as can the layer with the tree, or the owl sketch or the background.
My tree was ok, but then I started wondering if maybe there was an ipad app with stencils - and, of course, there is an app for that. So, I erased my tree, and imported the canvas into an app called, Stencils. The only problem with Stencils is that while there are many colors, you can't mix them, and the spraypaint brush doesn't look anything like spray paint.
But, after adding a few stencils from Stencils, I brought the canvas back into Artrage, squeezed paint onto the stencils, and painted them up.
At this point, I wasn't loving the peachy background, so I squeezed on some blue paint, and used another version of the palette knife - instead of spreading the paint, it creates something of a water effect, with mist and swirls.
By then, I had changed my mind again about how I wanted my owl to look, and I sketched in another owl. As you can see from the screen shot, the owl is on one layer, the paint on another. I had started out with this fluffy pink idea - using a paint brush set to paint daubs, but then I decided to import Japanese paper. You can't see that layer on this screen, but I took an image of origami paper, and I put it on its own layer. I then erased around it, creating the tummy, and the ring around it's head. Oh, but before I did that, I still wanted to recreate a stencil effect, so I went googling again, and found a Japanese stencil app - that's just a gallery of Japanese stencils. With this app, you can change the color of the background of the stencil, as well as the stencil print. So, I picked a stencil, imported it into Artrage on it's own layer, set the opacity to maybe 15%, and voila - the stencil you see in the background. Be warned though, the Japanese stencil app does come with commercial restrictions, so if you weren't going to use it to create art for sale, or distribution, you'd have to get permission to use the stencils. Since, I have no intention of selling my fairly pathetic, but highly entertaining, at least to me, ipad creations, I don't think I have anything to worry about.
To finish it off, I saved my canvas, and imported it into Sketchbook pro. Sketchbook has a lot of novelty brushes, and it's spray and splatter function is better than Artrage. In my blog header, the butterflies are a Sketchbook brush, as are the stars. For my owl, I just added some blue smudges in the corners, and that was it. Then, I saved the thing, imported it into Camera +, and added the frame.
And there you have it, voila!
And how to paint the cute little owl? Well, I can't describe that process - you'll have to take the class for that.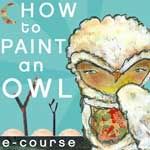 And you may say to yourself - why do I want to learn how to paint an owl. Well, it's about painting an owl, and it's not. Like the SheArt class, I was skeptical of taking a class to learn to make art that looks like someone else's art. But, these classes, I think if taken the right way, should be a springboard to something else - perhaps your own character, or your own girl that looks like only yours. It's kind of like a basic chocolate cake recipe, and then you add your own ingredients to make it something special and unique. Now, I have to say, I haven't taken these classes to the next level - I'm just not that serious about art, or painting. I'm just in it for the fun of it. And creating the girls was fun, and the owls are fun, and as you can see from my rather pathetic header, I've tried to take what I learned in my Owls class, and create something of my own. I need some work on my Lemon, though. For me, the bottom line, is I really enjoy crafts, and I love school, especially when school resembles play.
And Juliette Crane, who created the How to Paint an Owl class is very brave, and trusting - putting her whole process out there, generously sharing her own inspirations, and creative thinking, with step by step photos and videos of how she got from point A to point Z (there are many steps in between!). She's so excited about her little guys, that I almost feel, using the iPad, like I did during a short story class in college that I kept blowing off. The teacher was a grad student, or maybe a post-doc student, and he was so enthusiastic, that when I opted to go to class one day, he gave an impassioned plea for us not to blow off his class, because he learned so much from us, and he would incorporate that into his teaching, etc., blah blah blah. But, it really moved me, and after class, I apologized to him for blowing him off, and never missed a class again. Here, I feel like I'm taking a shortcut, by not getting messy (although I did actually paint with real paint 2 owls, and I do intend, once I get the quilt I'm making as a gift done, to paint again), and not playing with the paint that she clearly loves so much, and has opened her heart and mind to share with us.
But, I will paint again . . . not virtually, but truly.